St John's 12 July 2016. An article entitled "Queen's envoy 'Baroness Brazen' is entangled in honours scandal: Title given to Commonwealth chief's crony is 'reviewed' after she is accused of abusing the system", written by Ned Donovan and Ian Gallagher and published on 29 May 2016 on the print and online editions of the Mail on Sunday, alleged that, at a banquet in honour of HE The President of Hungary at Draper's Hall hosted by Anthony Bailey, delegate for the Sacred Military Constantinian Order of St George, he doctored a letter from the Prime Minister Rt Hon David Cameron MP,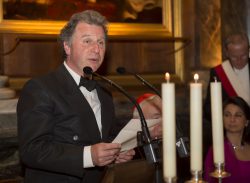 before it was read out by his official representative, the Chancellor of the Duchy of Lancaster, to the guests.
The Mail on Sunday article has been proven to be false in this regard. A letter on 6 July 2016 issued from the Cabinet Office by the Chancellor of the Duchy of Lancaster, Rt Hon Oliver Letwin MP, to Anthony Bailey's solicitors, Carter-Ruck, confirmed that the message read out at Draper's Hall was the unaltered text given to him by the Prime Minister's Office.
The Mail on Sunday now recognises that Anthony Bailey neither amended the letter nor interfered with it in any way.
It has removed this serious and unfounded allegation from its article and the matter has been forwarded by Carter Ruck as an official complaint to Ipso, the Independent Press Standards Organisation, for formal adjudication.
For more information please contact Nigel Tait and Dominic Garner at Carter-Ruck solicitors (nigel.tait@carter-ruck.com / Dominic.garner@carter-ruck.com).